OUR FACILITIES

A total of 309.800 m2 closed area have one of the largest enterprises of the sector in Turkey with 201.300 m2.
OUR FACILITIES/ACRYLIC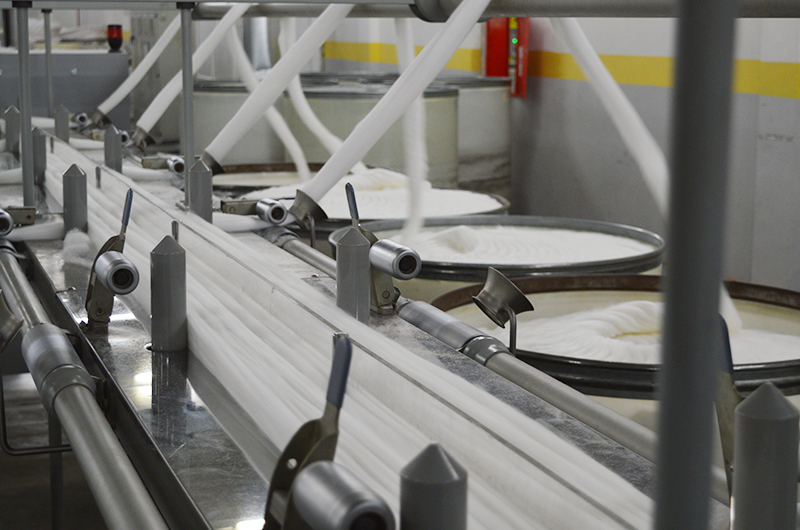 We can produce our acrylic yarns with a thickness between 7-50 Nm.
With the decision to make new investments in the closed area of 22.000 m2 in 2011, Melike Tekstil started to produce wool, acrylic, wool-polyamide, and mixed acrylic-wool carpet yarn.
Acrylic, that is used as one of the most important raw materials of upholstery fabric and knitwear sector,has joined in the production portfolio of Melike Tekstil in 2012. The investment made in parallel with the increase in the weight of the carpet industry in Gaziantep Industry and the production culture of Melike Tekstil come together. Our facility, which gained an important place in the Acrylic Yarn sector in a short period of time, has continued to grow and develop.
Our Acrylic Yarn Production Facility, which was originally established on an area of 22.000 m2, has now become a large facility on an area of 50.000 m2. In addition to our high-technology production lines, we continue our work as a competent enterprise that can meet customer needs under a single roof via the skein dyehouse. We manage our smart systems in our Acrylic Yarn production facility, which has an important capacity and position in the sector with 900 employees, with our competent employees.
Every passing day, as we continue our investments to expand our product range and capacity, we also improve our production capabilities. In addition to our Acrylic Yarn production with a thickness between 7-50 Nm that is suitable for the carpet, upholstery fabric and knitwear sectors, we have the ability to produce wool, polyamide, acrylic, tencel, and bamboo carpet yarns that are used in the carpet industry. We develop the yarn with desired colors and features together with our R&D team, which can work as part of customer product development efforts, and work with the goal of 100% customer satisfaction.